Baxter, Robert
Maitland : 1878
The description of Baxter recorded in Design and Art Australia Online is that of a professional photographer,
"…undoubtedly as a travelling rather than resident photographer. Baxter appears to have had stayed nowhere very long during a photographic career that extended from at least 1866 to the end of the century."[1]
Travelling throughout rural southwestern New South Wales between 1866 and 1880, his route included Tumut, Queenbeyan, Cooma , Yass, Young and Merimbula.
It was November and December of 1878 when Baxter's business brought him briefly to Maitland, evidenced by his advertising in both the Maitland Mercury and the Maitland Weekly Post.
MR. R. BAXTER, photographic Artist of extensive Colonial and British experience,
begs to acquaint the inhabitants of Maitland and surrounding district that the has
COMMENCED BUSINESS in those premises well and favourably known for many
years as HART'S GALLERY, High-street, West Maitland, where he will practice his
art in all its branches, from miniature to life-size portraiture.
His extensive experience and artistic ability enables him to produce the very best
results under all conditions, and at once places him in the first rank of Photographers.
There no longer exists the necessity of going to the Metropolis for high class
portraiture. Having PUR CHASED a Stock of WORKING MATERIAL in England,
he is in a position to SUPPLY PICTURES in all the branches at very reasonable terms,
consistent with good work.
BUSINESS will COMMENCE TO-DAY (the 12th November.)
The Show Room will be fitted up in about Fourteen Days with a variety of local subjects. [2]

Baxter's subsequent advertisement was rather more modest:
Photos. for the Million!
At R. BAXTER'S Studio, next the Post Office -
late Hart's Gallery – West Maitland.
Cartes 5s. 6d. per half dozen
All photos. Proportionately cheap.
Enlargements to Life sized, finished in oil,
water colours or crayons. [3]
Baxter presumably remained in Maitland longer than his 1878 advertising would indicate, since the portrait of Mr. C. Molloy (right) was catalogued by the State Library of New South Wales as the year 1899, however the date appears to have been overwritten with 1879, matching the time Baxter was in Maitland. [4]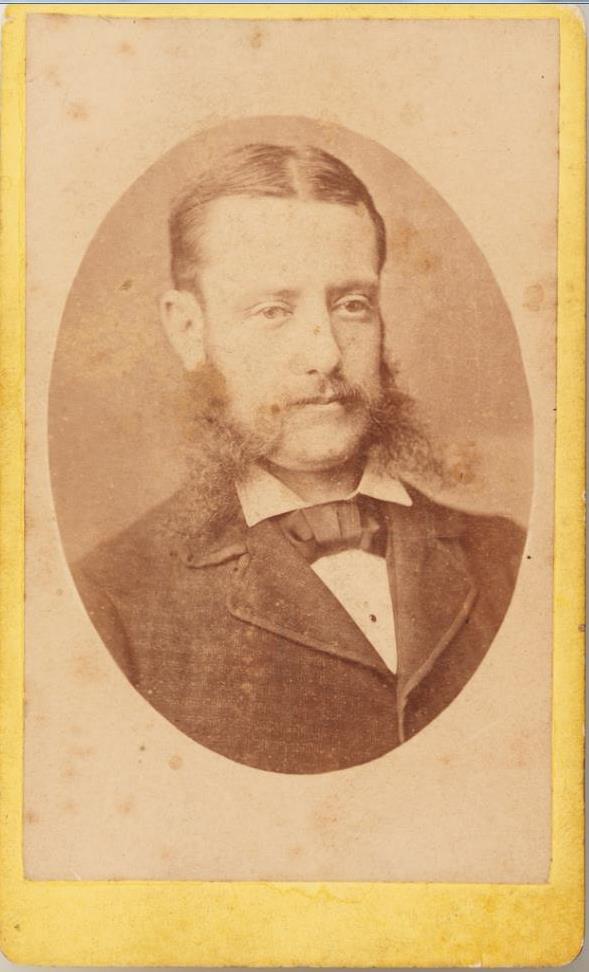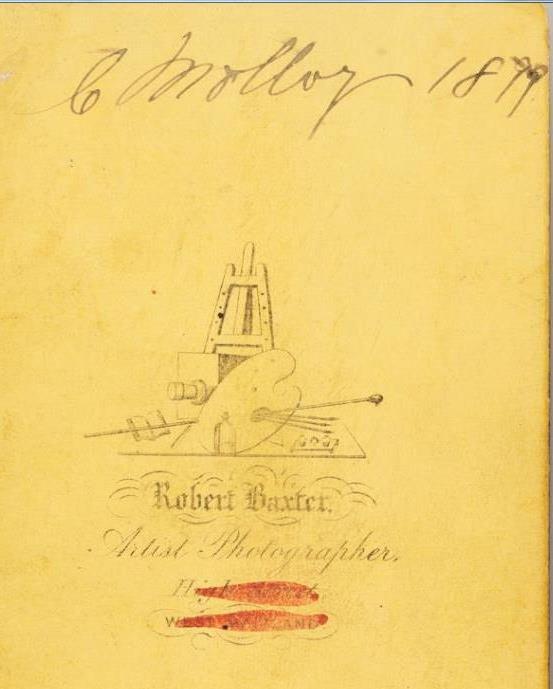 Image courtesy of Terri Svensson