Goodman, George Baron
Maitland : 1846
George Goodman has the important distinction of being the first professional photographer known to have worked in Australia, arriving from England in November 1842.
Design and Art Australia Online provides the following background:
Having taken lessons from Louis Daguerre in Paris, Goodman had purchased a licence to take photographs within specified British colonies from Richard Beard of London, Britain being the only nation to have patented the invention. Beard advertised colonial licences in The Times on 18 April 1842, just in time for Goodman to respond before leaving for the antipodes on 15 June. He officially opened his Daguerreotype Gallery at the Royal Hotel, Sydney, on 12 December 1842. [1]
After travelling to a number of towns, Goodman returns to Sydney in February 1846 to establish premises at 321 Castlereagh Street. In September 1846 he was at Newcastle, engaged to take photographs of local buildings and advised that from 13-22 September he would be available to take likenesses at Farquharson's Hotel. With Maitland as his next destination, Goodman used George Yeoman's Hotel from 19 November to mid December 1846.[2]
DAGUERREOTYPE
TO THE INHABITANTS OF MAITLAND AND THE VICINITY
MR. G. B. GOODMAN begs to inform the inhabitants of Maitland that he will
arrive at Mr. George Yeomen's Hotel, on Monday next, the 19th November,
where he will commence taking likenesses on the recently invented improved
principle, introducing some of the most interesting and picturesque scenery
of New South Wales ; which presents the double advantage of a fac simile
portrait, and a highly finished local landscape.
Mr. Goodman will stay in Maitland for two weeks only ; he therefore solicits an
early application.

The following Maitland Mercury article demonstrates the newness of having a 'likeness' produced, assuring the reader that the sitting time is 'hardly more than half a minute', an allusion to public perception that the daguerreotype imaging process could be lengthy.
THE DAGUERREOTYPE.-We beg to call the attention of our readers to the advertisement of Mr. G. B. Goodman, in another column. We have ourselves witnessed the execution of several portraits, and in addition to their being excellent likenesses, there is a degree of finish about them that is impossible to be appreciated unless seen. The sitting too is short, hardly more than half a minute being required to fix the portrait. To those who have never seen the process, the-sight of the operation is well worth a visit ; whilst to those who have friends either at home or in distant parts of the colony, an opportunity now offers of sending a portrait that cannot be otherwise than faithful. [3]
This advertisement (right) by Goodman appears on a regular basis in the Maitland Mercury through November and December of 1846. [4]
By 15 December 1846, Goodman had returned to his premises at Castlereagh Street North, Sydney. Goodman sold the business to his brother-in-law Isaac Polack and in July 1847 and opened his Circular Quay Hotel next door to the Sydney Customs House.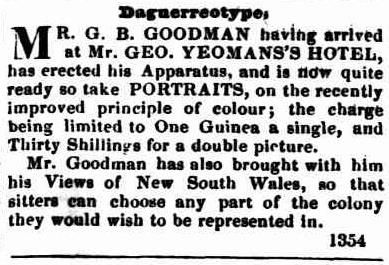 In June 1851 Goodman died in Paris after a short illness. [5]
The State Library of New South Wales has a number of Goodman's images available via the internet.[6]