Liddington, John
Maitland : 1854
John Liddington's profile in Design and Art Australia Online (DAAO ) describes him as a professional photographer and photographic colourist, first advertising his skills as a 'photographic artist, in oil colours' in the Sydney Morning Herald of 11 April 1859. Liddington's display at his Sydney studio were overpainted photographs from photos he had taken in London in October and November of 1858. [1]
Prior to this, Liddington had travelled through areas of New South Wales, visiting Maitland in March and April of 1854, where he was taking coloured daguerreotype portraits at the Northumberland Hotel: [2]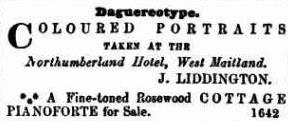 Liddington proceeded to Singleton in September 1854, advertising in the Maitland Mercury through October [3]
SINGLETON -Daguerreotype Portraits
MR. J. LIDDINGTON respectfully informs the inhabitants of Singleton, that he is
taking PORTRAITS in the above style, in frames usually used in morocco cases
for lockets and rings. The success attending Mr. L. on his visit to Singleton, and
the satisfaction expressed by all persons whose portraits he has taken, is a good
guarantee that those who may favour him with their commands may depend
upon procuring pleasing and correct likenesses.
Munro's Hotel, Oct. 12th, 1854.
In 1855 Liddington was in Muswellbrook, "visiting here for a few weeks", likewise with Scone, Murrurundi, Tamworth and Armidale.
By June of 1867, Liddington had settled in Murrurundi and was referred to as a "photographer of some note, and a permanent resident here." [4]
The Dictionary of Australian artists: painters, sketchers, photographers and engravers notes that in the Sydney Morning Herald advertisement of 11 April 1859, the photographer's name is misprinted as Siddington.