McDonald, Albert
Maitland : 1886-1887

Hart's Portrait Gallery is reopened in December of 1886 by Albert McDonald of Launceston, Tasmania. [1]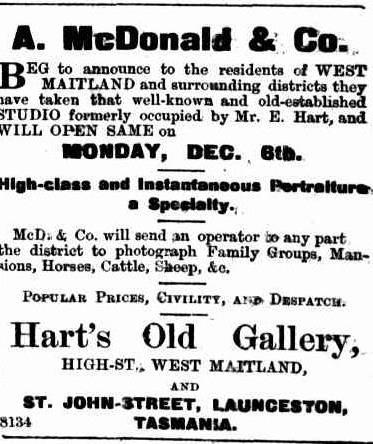 Edgar Turner Sheppard, aged 7, 1886.[2]

NEW PHOTOGRAPHIC STUDIO--An advertisement elsewhere intimates that Messrs. A. McDonald & Co., will presently open the gallery known for long as Hart's Portrait Gallery. Of their skill in portrait photography we have had no chance of knowing, but we had last evening the pleasure of inspecting a series of landscapes, of Tasmanian scenery, which were not simply the best out-door photographs we have ever seen, but showed also that the manipulators possessed excellent taste in the selection of scenery to be taken. An inspection of views we allude to will serve to indicate what able work of this kind these artists have done.[3]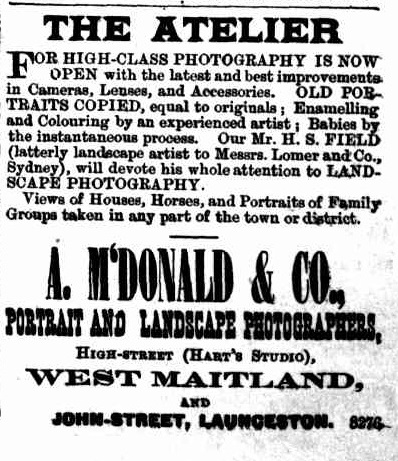 McDonald invests in a number of large advertisements with distinctive size and lettering.[4]
While McDonald uses his studio name as The Atelier on 7 December 1886, it next appears as the Federal Photographic Studio on 14 December, the last line of that advertisement indicating that The Atelier is the Launceston studio name.

It is also interesting to note the emphasis on landscape photography, Mr. H.S. Field being entirely devoted to this aspect, with his credentials indicated by his prior employment with well-known Sydney firm Lomer and Company. [5]
The Mercury provides the following description of the McDonald photographs taken of Maitland buildings:

…the School of Arts, Mercury Office, Telegraph Office, Congregational Church, Mrs. Logan's residence and Soap Works at the Long Bridge, Post Office, the High-street Embankment, showing the stone-work and river, and the graceful willows at the water's edge, panoramic view of the Gas-works, a very complete photograph, the Rowing Club's shed and baths, showing the boats on the water. The whole are very admirable pictures, and do great credit to the establishment of Messrs. McDonald and Company. Another portrait, executed under the instantaneous process, represents horses and cabs moving about in High-street, the objects being very clearly shown.[6]
After all of Albert McDonald and Co.'s various efforts in Maitland, surviving copies of their views of Maitland buildings have not as yet been located in this research.
The business required additional staff, in particular "A young lady for the reception room and to learn colouring" in January 1887.[7]
An enlarged portrait of Alex Wilkinson is described as an extraordinary twelve feet by fourteen feet:

Artistic Productions.-Messrs. A. McDonald & Co., photographic artists, High-street, West Maitland, have shown us a very fine enlarged portrait of our old townsman Mr. Alex. Wilkinson, ex-Mayor of West Maitland, reproduced by them from a small carte-de-visite. It is a remarkably faithful Likeness well finished, and in size is about twelve feet by fourteen feet.[8]
The Shamrock Hill Meat Preserving works were photographed by McDonald in June 1887, the Maitland Mercury providing details. [9] The final part of the McDonald-in-Maitland story as played out in the Maitland Mercury refers to a shooting party at Warrah, north of Murrurundi, where "Members of the party are posed in different portions and some of the views are very natural."[10]

This portrait of two girls carries the caption McDonald & Weston, although whether this refers to Mr. Charles Weston is unclear.