Merlin's theatrical career
The Merlin connection with Maitland actually commences almost twenty years earlier than his photographic activities, when the Royal Marionette Theatre from Sydney opens in Maitland in May of 1853 – with H. Muriel (Merlin) the proprietor. Showman Henry Beaufoy Merlin had assumed a number of other names over the course of his lifetime, as Richard Bradshaw's research uncovered:
"This present research, which began as an investigation into the Royal Marionette Theatre which existed briefly in Sydney in 1853, has uncovered Merlin's early activities in Australia as a showman displaying 'panoramas' and marionettes, an actor-manager and a builder of theatres, including Newcastle's first. These activities have remained hidden until now because Merlin apparently changed his name more than once." Merlin's alternate names included his original, Henry Murlin, becoming Henry Muriel and finally Henry Beaufoy Merlin in 1866, with no further change. [1]
After the Maitland performances of 1853, Muriel (Merlin) reappears in 1856, having opened the new Queen's Theatre in High Street in May. In June, the theatre was destroyed by fire, only to be replaced in August with a new building.
By November 1856 Muriel (Merlin) had relocated from Maitland to Newcastle. [2] The Queen's Theatre in Maitland was offered for sale in October 1856, with "The Proprietor obliged to leave for England as soon as possible." [3]
The proprietor in fact relocates to Newcastle, not England, and as to reasons for Merlin's exit from Maitland, it could be speculated that rather harsh criticism of his acting abilities appearing in the Maitland Mercury of 9 September 1856 could have been the prompt. With comments such as 'we would recommend him to abandon the stage' to avoid the repeat of 'such a disgraceful scene', Merlin may have decided his talents would be more appreciated elsewhere. [access full article]
The Queen's Theatre continued operation for a number of years, the last mention of the Theatre appearing in the Maitland Mercury in May 1859.
The site of the theatre was in High Street, opposite D. Cohen and Co., next door to the Australian Inn. [4]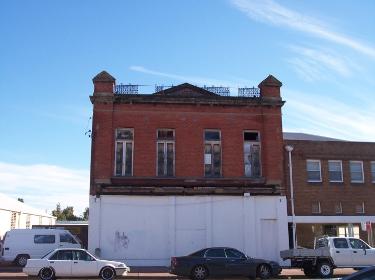 The Queen's theatre site 2015
adjoining (to the right)257 High Street, Maitland.
Opposite former Cohen's building.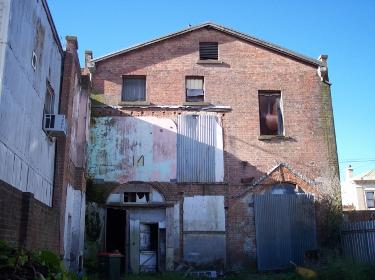 The Queen's theatre site 2015, rear view
adjoining 257 High Street, Maitland.
Opposite former Cohen's building.
[1] Bradshaw, Richard. Merlin, Henry Beaufoy (1830-1873) Australian dictionary of biography. http://adb.anu.edu.au/biography/merlin-henry-beaufoy-13096
[2] Bradshaw, Richard (1985). The Merlin of the south. Australasian drama studies, no. 7, October 1985. P. 114
[3] Maitland Mercury 16 October 1856
[4] Maitland Mercury 26 May 1856, 12 June 1856