Paine, John
Maitland : 1873
John Paine was a well-known commercial photographer in Sydney in the late 19th Century, selling views of the city and the Blue Mountains from his studio at 96 Elizabeth Street, Waterloo. [1] Correspondence from the Sydney University indicates John Paine began his career in Tamworth between 1869 and 1874, moving to Sydney in 1874 to set up as a landscape photographer in Waterloo. [2]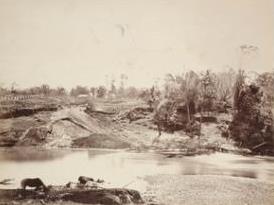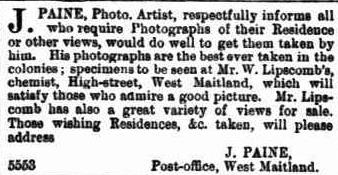 Paterson River
Image: State Library NSW


Paine skimmed Maitland lightly in September to December of 1873. Specimens of his work could be viewed at Lipscomb's, Paine able to be contacted via the Maitland post office. [3]
The Maitland Mercury report found great merit in Paine's photographic abilities:

FINE LANDSCAPE PHOTOGRAPHS - Mr Paine, a photographic artist whose advertisement in another column will give information to those interested has shown us some specimens of his art, which we have no hesitation in pronouncing excellent pictures. They consist of views about Martindale, Denman, and other places in the Northern District, some choice bits of scenery on the Paterson River, and several admirable bush views...prove him to be a true artist, and his specimens, which are to be seen at Mr. Lipscomb's, West Maitland, will be evidence of the fact to everyone who may inspect them. [4]
One of the images described by the Maitland Mercury as "choice bits of scenery on the Paterson River" is reproduced above right, from the State Library of New South Wales. [5]
The Australian Town and Country Journal refers to Paine as being "now of West Maitland" in November 1873. [6]
A final small reference in the Maitland Mercury of 6 December 1873, mentions Paine having photographs at the St. Mary's Church fund raising bazaar. [7]
The only Paine portrait located in this research is that of John Joseph Meacle (right).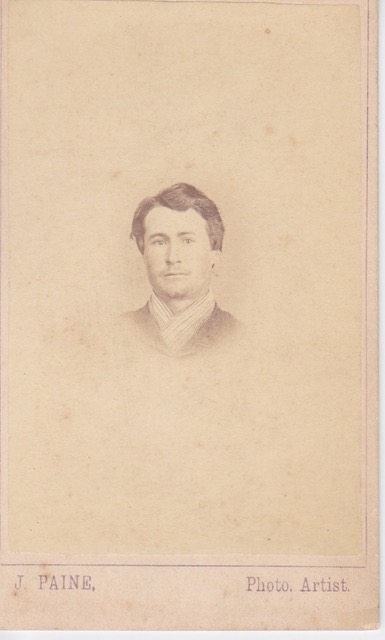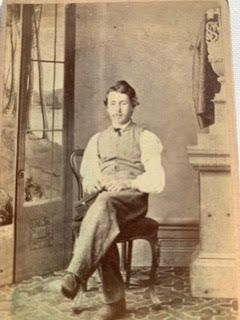 John Meacle was also photographed by Elijah Hart (left) date unknown.
Images kindly supplied by Adrian Revell.
Paine's career progressed with considerable strength. "His work was exhibited at the Sydney International Exhibition (1879), the International Colonial and Industrial Exhibition at Amsterdam (1884), International Exhibition, Calcutta (1885), and the Colonial and Indian Exhibition, London (1886). He accompanied Commodore J. E. Erskine and Augustine Dyer (the official photographer of the N.S.W. Government Printing Office) on the Expedition of the Australian Squadron to the S. E. coast of New Guinea in 1884, on which the first examples of Australian Colonization through photography, was established." [8]