Vandyck Studio - A. Williams
The first mention of the Vandyck studio appears in advertising by Morris Moss in July of 1893, as Moss has secured the services of a first class artist straight from the well-known Vandyck studios, Melbourne. [1] That artist would be Mr. A. Williams, who features as the Vandyck manager one year later.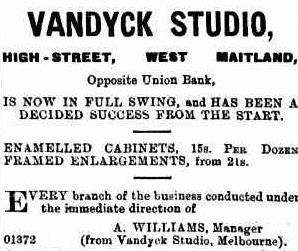 The Vandyck studio steps out independently in July of 1894, when a 'profitable and entertaining new idea' appears in the notices of the Maitland Mercury. The West Maitland School of Photography is announced of the under the direction of Mr. A. Williams – 'many years artist and operator at Moss and the Vandyck studio in Melbourne. Mr. Williams will impart a thorough, practical knowledge relating to the use of cameras, exposure and development through to mounting and finishing. [2]
As there is no further mention of the School of Photography its potential may not have been realised.
The studio advertises its 'decided success' a few months later. [3]
The Mercury's annual feature, "The shops at Christmastide", comments on the Vandyck studio as comparatively new business, "carried on in unpretentious premises as far as front is concerned, but ample evidence is shown of the work carried on in the numerous photographs taken since its establishment. The studio has been handsomely fitted up with all necessary requirements of the latest design, and work is carried out in black and white, oil, and water colours." [4]
It seems that Christmas cheer lasted through to March 1895, when Vandycks' final advertisement was printed and after which the studio presumably closed. [5]
Photographs from Vandyck's Melbourne studio can be viewed online at the State Library of Victoria website [6].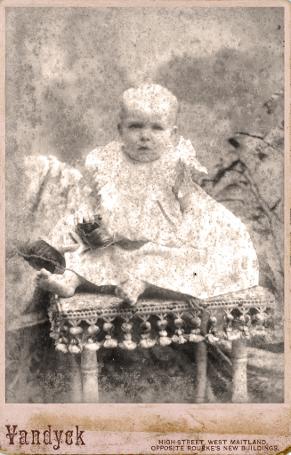 High Street West Maitland,
opposite Rourke's new buildings
Image : Maitland City Library
[1] Maitland Mercury, 10 July 1893
[2] Maitland Mercury, 10 July 1894
[3] Maitland Mercury, 12 September 1894
[4] Maitland Mercury, 20 December 1894
[5] Maitland Mercury, 27 March 1895