Auto Portrait Studios
Maitland : 1936-1937
The Auto Portrait Studios opened on 9 November 1936, with the ability to provide a strip pf 6 photos.
Auto portrait technology was developed in England in 1928 by the Auto-Portrait Co Ltd, launching a semi-automatic portrait producing machine which required an unskilled human assistant to develop and print photographs. [1]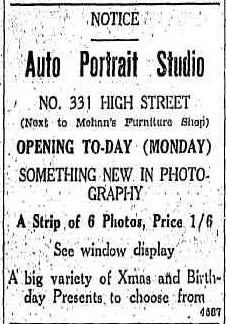 In November of 1936 the Studios advertised their Kodak same day service, film developed and printed. A picture framing service was also offered to customers.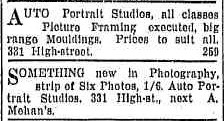 This same advertising was repeated from November 1936 to April 1937
The Auto Portrait Studios abruptly ended their business in Maitland when advertising on 14 April 1937 that they are removing to Cessnock.