D.L. Morris Art Studios
Maitland : 1920 - ?
D. L. Morris' Art Studios Maitland commenced in December 1920, when he took over a photographic business in Paskin's Arcade, 399 High Street. [1]
After detailing Mr. Morris previous experience in the business, the Maitland Mercury reports that Morris 'specialises in photographic oil and water colouring, this being done in the latest process. The oil colouring is permanent. He claims to be one of the pioneers in Australia of colouring photography, as it is known at present. The work seen in his shop certainly proves that he is a capable artist. All photographic work is undertaken, special attention being given to reproductions from old photos.'
Morris advertises in the Maitland Mercury from November 1920 to April 1921 and The Freeman's Journal until May 1922.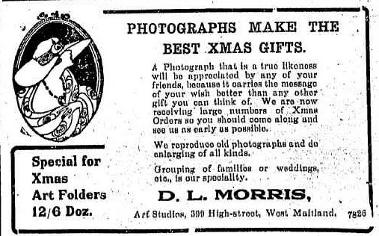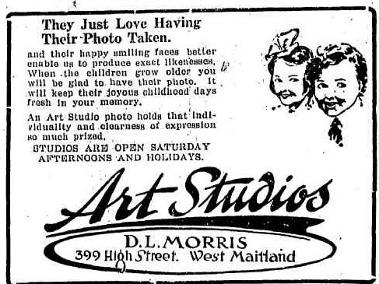 [1] Maitland Mercury 20 December 1920.