D'Ombrain, Athel
Maitland : 1934-1985
The following information has been primarily obtained fromthe University of Newcastle Hunter Living Histories. [1]
Athel D'Ombrain A.M. (1901-1985) has been described as a photographer, optician, naturalist, author, cricketer, pioneer angler, game fisherman and historian.
D'Ombrain's keen interest in photography led to the establishment of the Maitland International Salon of Photography. In 1934 he, along with Wallace Fitness, approached the secretary of the Hunter River Agricultural
and Horticultural Association Show Society, asking whether they could display some local photographs in the Fine Arts Pavilion at the 1934 annual Maitland Show. The request was accepted, and so was founded the Maitland Salon of Photography.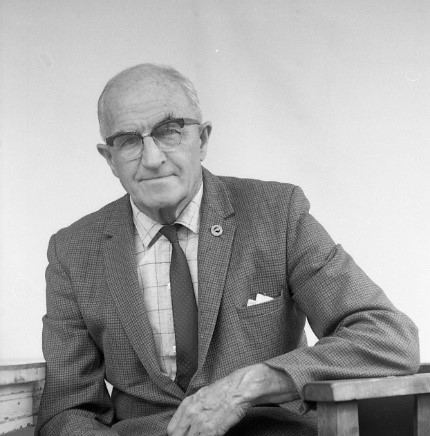 Athel D'Ombrain1969
Image: University of Newcastle
In 1946 Maitland Salon became an Australian Photographic Society approved Salon and then in 1958 became an International Salon with approval from the Photographic Society of America and finally in 1982 the federation International De L' Art Photographique granted its patronage.
Around 1950 Athel retired from optometry and became a photographer for The Maitland Mercury. After the 1955 flood hit his home, he left the newspaper and established a commercial photographic business in Maitland. Concurrent with these activities he was a "photo-finish operator" at the Maitland Showground and a freelance cameraman.
On the 9 June 1975, in recognition of his service to photography and the study of nature, he was awarded Member of the Order of Australia.
D'Ombrain spent many years photographing the Hunter area's wildlife and making a very comprehensive and unique photographic collection of the older buildings of Maitland. This collection was deposited University of Newcastle Archives in 1982. [2]
Some of D'Ombrain's photographs have been published in "Historic Buildings of Maitland District", Reed, Sydney, 1981.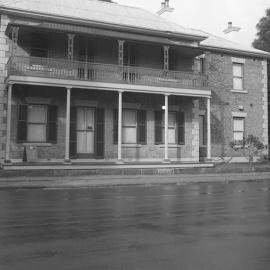 Brough House, Church St. Maitland, 1979.
An exhibition of D'Ombrain's work was presented by Maitland City Art Gallery in 1984 and the National Trust also held a special exhibition in 2018.
A comprehensive collection can be viewed online at The University of Newcastle Archives. [3]