Howard Harris
Maitland : 1934 - ?

Image: Maitland Mercury 25 April 1936
The Howard Harris studio was already established in Sydney in 1919 [1] in Newcastle in 1927, Cessnock by 1933 and studio portraits first appear in the Maitland Mercury in August 1934.
The studio continues to contribute wedding photos and other portraits on a regular basis.
In an unusual promotion in 1936 hair stylist Miss Muriel Dunn was offering a free coloured portrait by Howard Harris with each permanent wave. [2]
A promotional article in 1937 asserts "Photos a necessity".
"Mr. F. Parton, the new manager of the West Maitland Branch of Howard Harris Studios, declares that photography nowadays is not a luxury but a necessity. The photographic trade, therefore, should not be considered solely as a business but as a service to the people. Children, for instance, should be photographed at different ages so that they may have a lasting record
of themselves in later years." [3]
The Howard Harris Studios were involved in the creation of a Camera Society in Cessnock, where it was proposed to arrange photo tours for members and exhibitions of photographic studies. Lectures would also be held to enable members to improve their knowledge of the study. [ 4]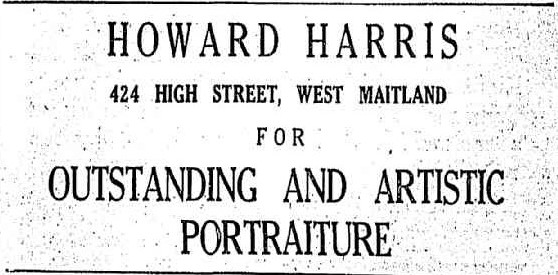 [1] Freeman's Journal 2 Oct 1919.
[2] Maitland Mercury 3 June 1936.
[3] Maitland Mercury 17 March 1937.
[4] Maitland Mercury 7 Dec 1937.