Paramount Studios
Maitland : 1938-

The Maitland Mercury declares 'Artistry in portraiture' when Paramount opened its Maitland premises in May 1938:
portraits by Paramount will be found to surpass, not only in value, but in personal satisfaction. Portraits to meet the demands of men and women who discriminate in the matter of quality and are critical in the consideration of price. Paramount's staff of artist photographers, retouchers, printers and colour artists, aims to produce work of outstanding quality, which is altogether new and more distinctive type portraiture, and yet inexpensive. [1]
Paramount Studios were operating at Sydney, Parramatta, Newcastle, Orange, Lismore, Tamworth, Katoomba and Wollongong, ' the Empire's largest studio, is producing 200, 000 high quality portraits annually.'
No advertising has been located in the Maitland Mercury from 1940 onwards making it unclear how long Paramount had a presence in Maitland.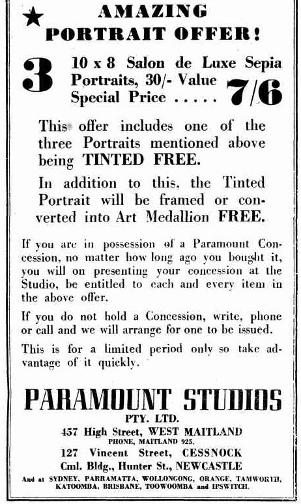 [1] Maitland Mercury 11 May 1938.
[2] Maitland Mercury 7 September 1939.