Read, A.
Maitland : 1902-1904
Mr. A. Read, photographer, of the Saxon Studio, opened business in Newcastle Street, East Maitland, in July 1902, with a travelling component to the business. [1]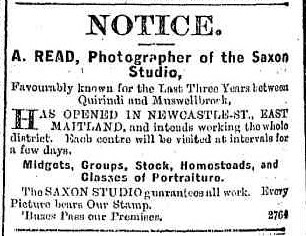 Mr. Read forwarded four excellent views of the town of East Maitland as a Christmas greeting to the Mechanic's Institute in 1903/4. [2]
In February 1904 it was advised: 'Residents of the outlying districts of Maitland will please note that A. Read, of the Saxon Studio, has removed to Morpeth, and that all work in hand will be despatched as early as possible.' [3]
The studio was still in operation in 1905, as 'The Saxon Studio, of Morpeth, announces that it has on view and for sale at Poulton's, High-street, West Maitland, and D. Ley's, East Maitland, a charming series of photographic pictorial post cards.' [4]
Read and the Saxon Studio's itinerary included Cowra in 1898, Murrurundi in 1901 and Kalgoorlie in 1906.
[1] Maitland Mercury 17 July 1902.
[2] Maitland Mercury 13 January 1904.
[3] Maitland Mercury 6 Feb 1904.
[4] Maitland Mercury 19 July 1905.