John David Sawyer and his brother Henry carried on the family tanning business after the death of their father in 1895. The Sawyers had a number of properties in Maitland with the business premises being 'almost opposite the Bank of New South Wales' in High Street. John David Sawyer was trading as a boot merchant in West Maitland until his retirement in the 1930s. [1]
But at some stage J.D. Sawyer also found time to operate the Bank Portrait Rooms (opposite the Bank of New South Wales). Only one carte de visite has been located, the reverse bearing the note 'Gallery established 1859.' Possibly established by Jacob Audet who was in business February 1860 or established by Sawyer? The dress of the portrait subject appears to be 1870s?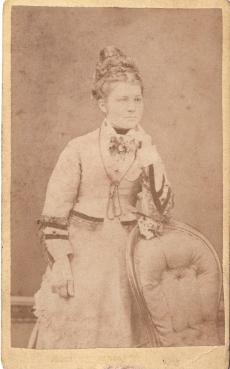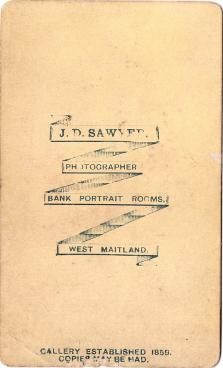 [1] Rudkin, Val. Who? What? Where? People of 19th century High Street, Maitland. Maitland Historical Society, 2015.