Ernest Cameron is the photographer who bridges the 18th and 19th centuries in Maitland, creating a link between past and future photography.
Cameron represents the longest duration of any Maitland photographer, working from 1892 to at least 1940 (some 10 years prior to his death) totalling 48 years and eclipsing Moss' 32 years of service.
By 5 November of 1894 the studio of Morris Moss is referred to as Cameron's Elite Studio – the baton of photographic accomplishment being taken up by Ernest Cameron. [1]
The transcript of a radio broadcast with the series title "Memories of the Hunter", dated 2/4/40, appears to be based on an interview with Cameron (then aged 69) and provides a number of interesting points regarding Cameron's life and career. [access full transcript] According to the transcript, Cameron was 'aged 14 when he became apprenticed to Mr. Moss, a photographer from London, who occupied the establishment which is still in existence as Cameron Studios'. Moss is stated to be 'one of the first photographers in Australia, and as an apprentice, Ernie Cameron can recall him using the old wet-plate collodion system.'
Although Cameron was associated with Moss, newspaper reports of 1892 refer to Mr. Cameron's studio, which is 'well worth inspection.' [2]
An interesting reference to Cameron appears in the Illustrated Sydney News of 4 February 1893, in relation to 'scientific palmistry', whereby a person could have their palm read by sending in a drawing or photograph of their hand to Miss St. Hill in Sydney. Arrangements had been made for Mr. Cameron of West Maitland to be used as a photographer for this purpose.[3] Some years later (1896) the certified scientific palmist Fran Marie St. Felix would receive clients at Mr. Cameron's studio. [4]
The radio transcript presenter, while in the Cameron studio waiting room, comments: "Innumerable photos can be seen of the '93 flood showing the water well over the counter in Barry's Hotel, and bread being delivered from a boat, through the top windows of the Volunteer Hotel, (now being demolished.)" [5]
Additional 1893 flood photos can be viewed in the Morris Moss photographic collection.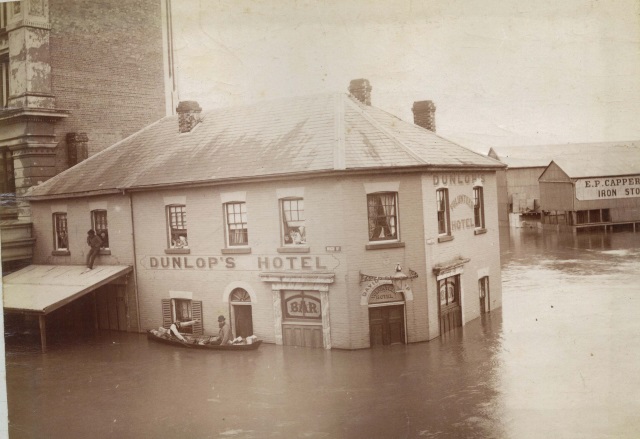 Cameron's first major article of approval was published by the Mercury in December 1894, describing him as "…possessing ability, if not genius, of no common order, an eye for the beautiful, an artistic taste for colour, and an educated method of posing that enables him to turn out some very fine work at the Elite Studio, formerly Moss''. [6]
He was praised in this same issue of the Mercury for his artistic skills in relation to a life size portrait of Mr. W.G. Lipscomb, an oil painting in a photographic enlargement, deemed "a conspicuously faithful portrait, but is also an admirable specimen of the painter's skill in toning and colouring. Mr. Cameron is himself the painter." [7]
Not one to over indulge in advertising, Cameron uses the same brief advertisement in the business directory column of the Maitland Mercury for twelve months during 1895 to 1896, viz.:
Cameron, E. (late Moss) Photo. Artist, High St. Enlargements from old and faded portraits. Instant system with children. Copies from Moss' negatives always procurable. Correspondence invt.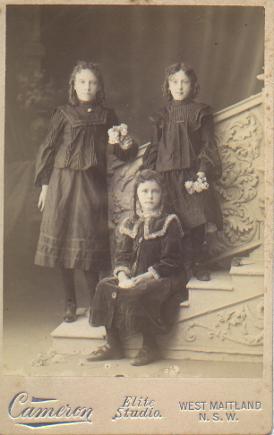 'Flashlight' photographs were featured at number of times in 1897, a photograph at the social gathering for the Rev. Henry Yarrington being described as "a very successful attempt at taking a picture in what for Maitland photographers are novel circumstances…on the whole we must regard the picture as a satisfactory one for an initial effort of the kind." [8]
Cameron's flashlight photo of a presentation at the Exchange Hotel in 1906 was rather more praiseworthy according to the Mercury, where Mr. Cameron was to be congratulated on the success achieved. [9]
Nellie, Ada & Anne Hamilton
Unlike some other preceding Maitland photographers (Audet proving a good example) Cameron appears only once in the newspaper in relation to the law, being charged with having kept an unregistered factory within the meaning of the Shops and Factories Act. Cameron's legal representative explained that the defendant had been conducting his photographic business for 20 years and he was not aware that he had to register his studio as a factory. The outcome was a financial penalty. [10]

Transitioning to the 1900s introduces the postcard photograph, of which three examples can be seen in the Cameron photographic collection.
Cameron Studios had the honour of producing a presentation album for the Duke and Duchess of York on their visit to Maitland in April 1927. The album contained '38 photographs of farms of the district and the important buildings of the town.' [11]

By 1940, Cameron confined his activities entirely to his dark room, with two of his daughters also working in the business. [12]
A fire that started in Cameron's studio in 1958 would see the destruction of his entire stock and equipment. "Prints and film belonging to customers were completely lost, hundreds of pounds worth of cameras, enlargers and other photographic equipment totally destroyed." The source of the fire was accidental - kerosene heater, lit by an employee. The adjoining businesses, Mr. Forshaw's newsagency, Ken Tubman's Pharmacy and the McLauchlin's Bakery were also damaged. [13]
The 1940 radio interviewer comments on the 'hundreds of boxes in the back rooms'. Assuming these (and/or others) were still in the studio in 1958, the destructive impact of the fire would have eliminated a significant photographic record of Maitland.
Over the years Cameron would take photographs of cricketers, footballers, athletes, champion swimmers, a range of local celebrities, dancers, bridal parties, special presentations, bands - countless portraits. The 1940 radio interviewer observes: 'There are not many Maitland residents who have not faced Ernie Cameron's camera.'
A definitive date for the closure of Cameron Studios has not yet been identified in the course of this research.
Ernest Cameron died in 1950 at the age of 79 and is buried at the East Maitland cemetery.
"In creating a pictorial record of the people of the Hunter Valley,
he has created a memory of himself, which will be forever respected." [14]
[1] Maitland Mercury, 5 November 1894
[2] Maitland Mercury, 25 June 1892
[3] Illustrated Sydney News, 4 February 1893
[4] Maitland Mercury, 9 Oct 1896
[5] Radio transcript, 2 April 1940
[6] Maitland Mercury, 21 December 1894, page 2
[7] Maitland Mercury, 21 December 1894, page 3
[8] Maitland Mercury, 28 Oct 1897
[9] Maitland Mercury, 23 June 1906
[10] Maitland Mercury, 18 March 1915
[11] Maitland Mercury, 4 April 1927
[12] Radio transcript, 2 April 1940
[13] Maitland Mercury, 22 September 1958
[14] Radio transcript, 2 April 1940