Maitland : April - May 1888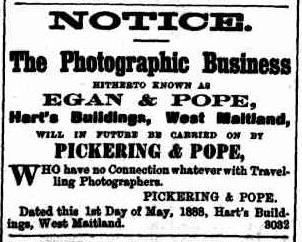 The existence of Egan and Pope as a photographic duo in Maitland was very short-lived.
In April 1888 Messrs. Egan and Pope applied to the Committee of the Hunter River Agricultural and Horticultural Association for 10 feet of space for exhibiting photographs at the Show, which was granted. [1]
The following month, Egan disappears and is replaced by Pickering, their studio locatedat Hart's Buildings. [2]
Pope is the next disappearance, with Pickering assuming responsibilities as the manager of Sullivan's studio, remaining in Hart's buildings.
[1] Maitland Mercury, 17 April 1888
[2] Maitland Mercury, 5 May 1888