Ferrell and Co.
Maitland : 1888
Succeeding from Fred Bowman in January 1888, W. J. Ferrell & Co. only conducts business until April of that same year. Ferrell advertises in The Maitland Mercury every few weeks, using the same advertisement on each occasion: [1]
With unclaimed letters at the West Maitland Post Office on 5 May 1888, Ferrell & Co. had apparently left town, for destinations unknown. [2]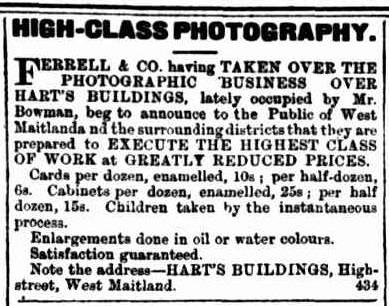 While Ferrell & Co. may have been short-lived, they did photograph what is possibly one of Maitland's significant occasions, the laying of the foundation stone of the Maitland Town Hall, reported by The Mercury on 21 January 1888: [3]
A PHOTOGRAPH OF THE CEREMONY OF LAST THURSDAY.
We have been shown a very good photograph taken instantaneously by Messrs. Ferrell and Co. (who have succeeded Mr. Bowman) of the scene of laying the foundation stone of the Town Hall last Thursday in West Maitland. The picture is very clear and sharp, and the likenesses of the principal actors faithful. The Mayor
is conspicuous, beside him Mr. N. P. Cohen is seen, and a little behind, Mr. E. W. Thompson, and Messrs. Gillies, Pritchard, Taylor, Main, are easily recognised. As a specimen of instantaneous photography the picture is meritorious, and as a memento of a notable event in West Maitland should be valued.
The town hall photograph referrd torecords an important moment of Maitland's history, but has not as yet been located.
The only surviving Ferrell & Co. photograph is this poor quality landscape image.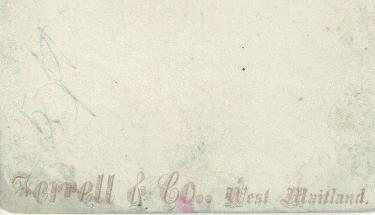 Image : Maitland Historical Society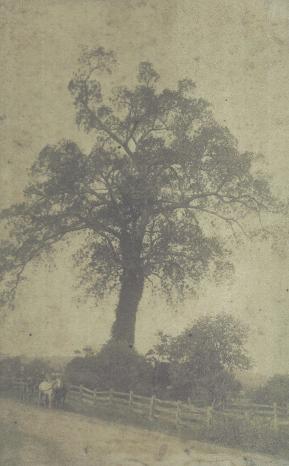 [1] Maitland Mercury, 17 January 1888 – 14 April 1888
[2] Maitland Mercury, 5 May 1888
[3] Maitland Mercury, 21 January 1888