Irving, E. T.
Maitland : 1890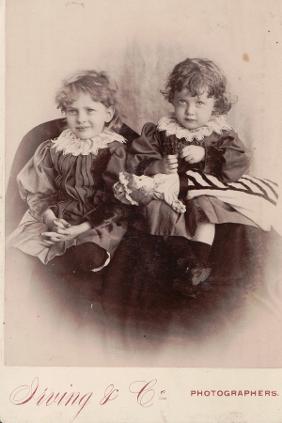 E.T. Irving makes a relatively brief appearance in Maitland in 1890. The Maitland Mercury refers to him on only two occasions, both in September of 1890.

On 16th September he forms part of the performance in a fund-raising concert for the Maitland Benevolent Society, assisting Mr. & Mrs. Arthur Sullivan in their sketch, 'Off to the races'. [1]
Four days later, Irving's advertisement announces his professional association with Sullivan has ceased and he is commencing business on his own. [2]
Myra and Mabel
Courtesy of Lindsay Watts
Prior to his arrival in Maitland, Irving is in Sydney, involved in the establishment of a Professional Photographic Society in May 1889. Irving was elected secretary of the proposed society at this first meeting and after the primary business being disposed of, "success to the New South Wales Photographic Society" was proposed and drunk with much enthusiasm. [3]
A photographer by the name of Edward T. Irving is listed as having his business in Yarrawonga, 1899 to 1910, possibly the same Irving that visited Maitland. [4]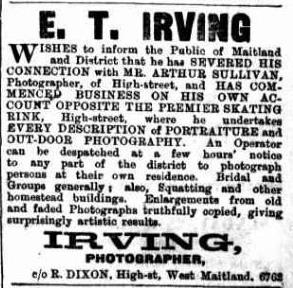 [1] Maitland Mercury, 16 September 1890

[2] Maitland Mercury, 20 September 1890

[3] Sydney Morning Herald, 18 May 1889.
[4] Alan Davies and Peter Stanbury, The mechanical eye in Australia: photography 1841-1900. Oxford University Press, Melbourne, 1985.