Kline, Balthazar
Maitland : 1863 -1880

Although Kline advertised his services as a photographer in Maitland from 1863 to about 1880, only two photographs have been identified to date as being his work. While the image below is clearly verifiable by the back of the photo, this image to the right is possibly Kline's second wife, Sarah Emily Moy, whom he married in 1866. [1]
Kline remains in Maitland until his death in 1893, a victim of the 1893 flood. Reported as a "sad death from drowning", the Mercury conveyed some biographical information, viz. that Balthazar Kline was a native of Germany, aged 63 years, coming to the colony nearly forty years ago. During the greater portion of that time he was living in West Maitland, his occupation being a dealer. [2]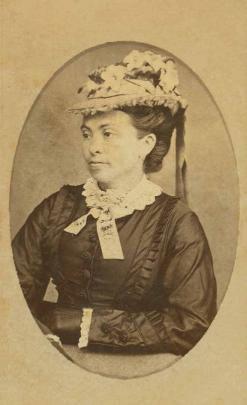 Balthazar Kline announced his new gallery in High Street, opposite the Bank of Australasia, in October 1863. [3]
PHOTOGRAPHY - PHOTOGRAPHY
The undersigned respectfully informs the public that he has erected a
NEW GALLERY, in which he is enabled to carry on the above art in all
its branches, at such prices to suit the times.
PORTRAITS, in FRAMES or CASES, from 2s. Portraits, in brooches or lockets,
3s. 6d. each. Portraits on cards, three for 9s ; any copy after, 2s.
A reduction will be made if three or more from the same family.
A CORRECT LIKENESS, or no charge, at
B. KLINE Photographer, High street, West Maitland
Next to S. Hart's Store, opposite the Bank of Australasia.
Kline did not indulge in a great deal of advertising, but did convey his prices in direct competition to Hart and Audet on a few occasions. [4]
Another new gallery was announced in October 1864, at a different High Street location opposite Rourke & Son, Saddlers. Kline was "now prepared to take likenesses in the best style." [5]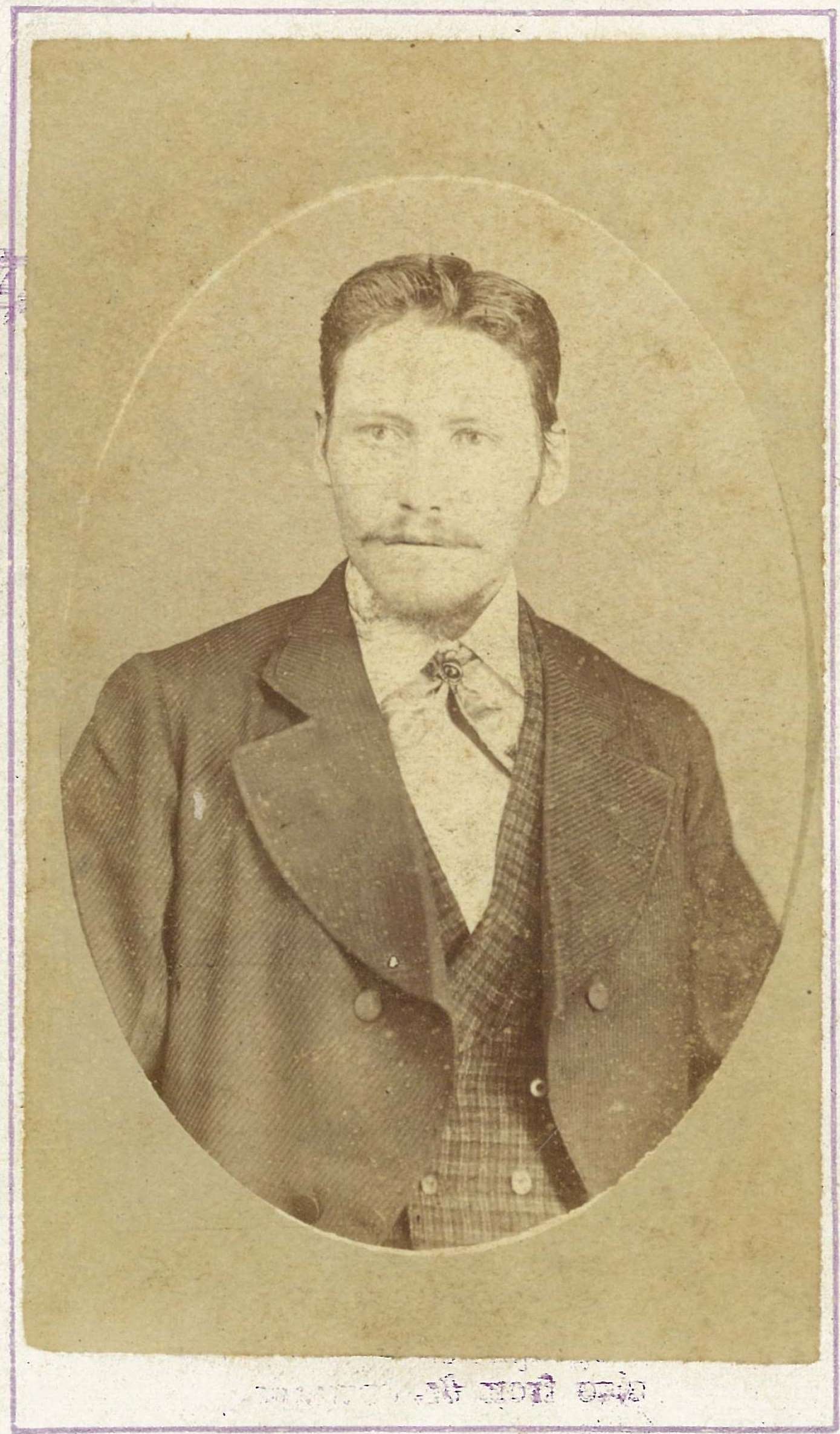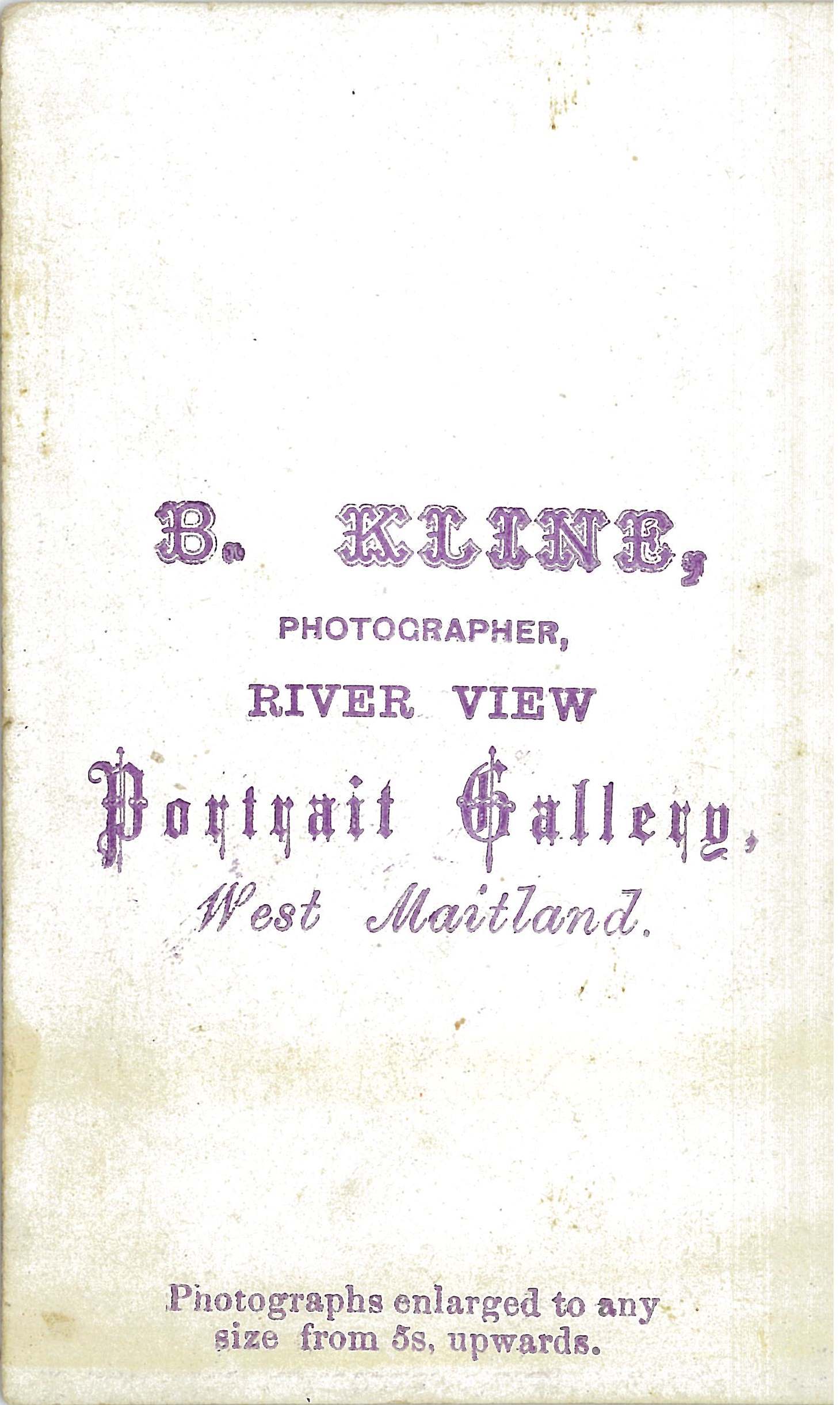 Image : Maitland Historical Society
Kline was involved in legal action in November 1864, relating to a breach of the Registration Act, when Anne Seal claimed to be married to Balthazar Kline and registered him as the father of her child. [6] Later evidence revealed that Kline lived with Anne, but they had not been officially married. [7]
Advertising photography at Jerry's Plains in 1871, "staying for a short time", suggests Kline spent some time as a travelling photographer. The death of his son, Henry Kline, in 1942, was recorded in the Northern Star indicating that as a boy, Mr [Henry] Kline accompanied his father, who was a travelling photographer, through the north of New South Wales and also as far as the Gulgong Diggings." [Northern Star 20 Jul 1942, p 4].
Flooding proves to be a problem as well as a business opportunity in 1874, Kline reducing the price of portraits 6 for 4s. 6d., or 8s. per doz., ' as a consequence of the Late Disastrous Flood'. [8]
The advertising columns of the Maitland Mercury again display the photographers' competition for patronage, with Moss, Curtis and Kline appearing sequentially. [9]
Kline's studio name "River View Portrait Gallery" first appears in the Maitland Mercury in October 1874 [10] and remains until at least 1877. [11]
In December 1876 Kline advertises that "Having charge of all the negatives taken by Mr. Nicholas, at Hart's Portrait Gallery, persons wishing more copies of their portraits can have some, by applying at the River View Gallery, opposite Rourke and Sons, Saddlers."
The River View Portrait Rooms were the target of theft in May 1877, the news description providing an opportunity for imaginative observation of the equipment in use at the time. [12]

...the large photographic apparatus had been lifted bodily up and the camera belonging to it gone. He afterwards found it down the bank of the river at the rear of his promises, minus the lens. The apparatus is used for copying large likenesses, and is said to be the largest in the district; it was fitted up and attached to a room which is under lock and key. The person, whoever he was, had apparently been armed with a screw driver, for the apparatus had been forced from its original place, the camera extracted, and the lens screwed off. The police have been made acquainted with the fact, and we hope to see the offender brought to justice.
The dispute with Timothy Noble that occurs in October of 1880 [13], is the last mention of Balthazar Kline as a photographer, although the following advertisement of July 1881 reveals the Maitland Photo & Tin Tag Company operating from Kline's address. [14]
The furniture and effects of B. Kline are offered for sale in October 1892 [15] prior to his death in 1893. [16]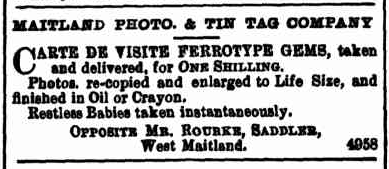 [1] Kline had been married to Cornelia Charlotte Geissler in Frankfurt in 1854; Maria died in Maitland in 1863. He remarried at Maitland in 1866 to Sarah Emily Moy.
[2] Maitland Mercury, 25 March 1893
[3] Maitland Mercury, 31 October 1863
[4] Maitland Mercury, 28 November 1863, 8 October 1864
[5] Maitland Mercury, 8 October 1864
[6] Maitland Mercury, 19 November 1864
[7] Maitland Mercury, 4 February 1865
[8] Maitland Mercury, 14 February 1874
[9] Maitland Mercury, 14 November 1874
[10] Maitland Mercury , 31 October 1874
[11] Maitland Mercury, 24 May 1877
[12] Maitland Mercury, 24 May 1877
[13] Maitland Mercury, 25 October 1880
[14] Maitland Mercury, 9 July 1881
[15] Maitland Mercury, 27 October 1892
[16] New South Wales Registry for Births, Deaths and Marriages. http://www.bdm.nsw.gov.au/