Miller and Englehart
Maitland : 1855 - 1856
The business of itinerants Miller and Engelhart began in Maitland on October of 1855, with the following advertisement which proved to be incorrect and confusing by its use of the name Hart rather than Englehart: [1]
Photographic Portraits A FAITHFUL and pleasing LIKENESS guaranteed
at Hart and Miller's Photographic Gallery, West Maitland, next door to
Messrs. Currey's.
Four days later, an erratum appeared, pointing out that the notice should have read not Hart and Miller, but Miller and Engelhart. [2]
The position of Mr. Elijah Hart was made clear in a notice a few days later: [3]
Hart was unable to avoid Miller and Engelhart as both businesses had adjacent notices in the Maitland Mercury: [4]
Miller and Engelhart then announced the closure of their gallery in January: [5]
By February, the photographers had moved on to Morpeth, taking collodiotype portraits 'for a few days longer'. [6]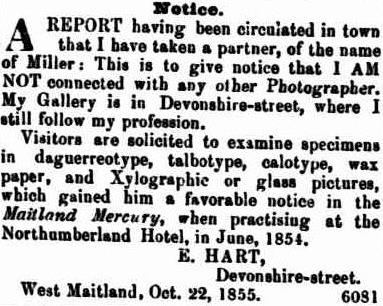 [1] Maitland Mercury, 20 October 1855
[2] Maitland Mercury, 24 October 1855
[3] Maitland Mercury, 27 October 1855
[4] Maitland Mercury, 3 November 1855
[5] Maitland Mercury, 1 January 1856
[6] Maitland Mercury, 2 February 1856