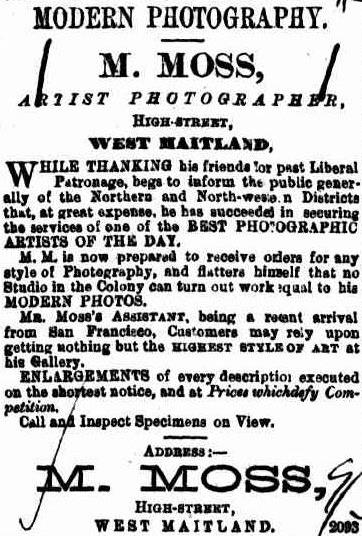 In this advertisement (left) of 20 March 1880 Mr. Moss's assistant is a recent arrival from San Francisco, while in April 'Moss is going to take the American Gem Photos., New Style.'
A few month's later sees "another novelty in photography":
Mr. M. Moss photographer, has shown us some excellent specimens of artistic photography, of quite a novel description. This new style of photograph is called the Cabinet portrait, and has only just been introduced in Maitland. [1]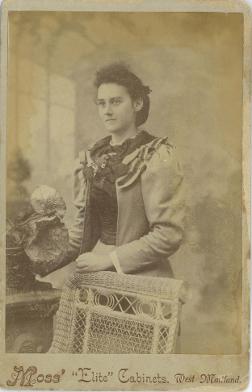 From 1879 to 1885 Moss supported the annual regatta and aquatic sports held in Maitland by the provision of prizes. For the 1881 regatta, Moss would award an enlarged portrait "…to the person who will give the grandest display of his abilities as a swimmer and diver, together with illustrations of how to rescue a drowning person."[2] Ironically, Moss' own son escaped drowning just two weeks later, after slipping into the Hunter River near Horseshoe Bend while playing. A 'gallant rescue' ensued with young Mr. W. Bussell plunging into the river fully clothed and with 'almost superhuman effort succeeded in grasping the unfortunate boy, and bringing him to land.' [3] [access full article]
After producing the delicate novelty of printing photographs onto silk (Mr. Moss being 'the only photographic artist in the colony who has succeeded') [4]
Moss brings the public back to basics with the following advertisement:
M. Moss will be photographing at the Church of England burial ground,
East Maitland, next week. Persons wanting Photos of Friends'
Tombstones will please leave their Orders at Gallery, High-street,
West Maitland. [5]
The Moss gallery was closed for a week in September 1882 to allow for extensive renovations to be carried out, [6] reopening with admiration from the Maitland Mercury:
IMPROVED PHOTOGRAPHY.-In the window of Mr. M. Moss's photographic studio may be seen some enlarged photographs in handsome frames just completed by our townsman in a very superior and praiseworthy manner. Mr. Moss has for years past enjoyed the reputation of being able to compete with any house in the colonies in the enlargement line, and the pictures now on exhibition certainly outstrip all his previous work. We understand that Mr. Moss has lately obtained from America all the latest improvements required in his art, and by this means he is in a position to do as good work as the American photographers at one-half the cost. [7]
A new form of photographic output is introduced by Moss in 1883, the 'exquisite' opaltype, which according to the Maitland Mercury, has created a stir throughout England and America. Mr. Moss, being determined to keep pace with the times, has imported the necessary appliances for producing the very latest. [8]
In November 1885 Moss advertises the relocation of his business to the premises known as Hart's photographic gallery, High Street, opposite Mitchell's arcade. [9]
Another move occurs the following year, the new premises being opposite the Maitland Mercury office. The first reference to the name "Elite Studio" is made and Moss advertises the range of photographic possibilities: Bijou, Easel, Carte-de-visite, Victorias, Cabinets, Promenades, Boudoirs, and Panel Portraits finished in every style. [10]
The opening of the new gallery is described in the Mercury:
Moss's New Photographic Gallery.-Saturday witnessed the opening of Mr. M. Moss' new photographic gallery, which has been fitted in recherché style, and in regard to its appointments is unsurpassed perhaps in the colonies… The genial proprietor extended a cordial invitation to the public to visit the establishment, which was brilliantly lighted, and crowds of persons strolled through the building between 7 and 10 o'clock. It is estimated that over one thousand people visited the gallery during the evening, and Mr. Moss was very warmly congratulated on all sides for his spirited enterprise. [11]
The Mercury provides a full description a few days later, titled 'New business premises for Messrs. Rigney and Moss', appeared on 25 September 1886, including details of the photographic processes undertaken by Moss' establishment. [access full article]
From April 1887 Moss ran this advertisement in every issue of the Maitland Mercury through November 1888, although after twenty months, the 'something new' banner seems somewhat redundant. [12]
After first mentioning landscape photography in 1870, Moss' efforts come to the fore again in 1889.
Mr. M. Moss, of West Maitland, has for some time past devoted himself to the collection of a series of camera pictures of the district. He has followed the courses of streams, driven over rough country roads, scrambled up creeks and gorges, scaled precipitous rocks, and lain perdu among ferns and brackens in the selection of choice bits of scenery… Mr. Moss' function has been to show the beauty that lies around us, and to exhibit the pictorial perfection of familiar landscapes or of the ordinary features of nature. [13]

With other business interests demanding his attention, Moss transfers the management of his photographic department to the 'capable hands' of Mr. George Kedwell[14] who has been with the studio for a number of years.[15]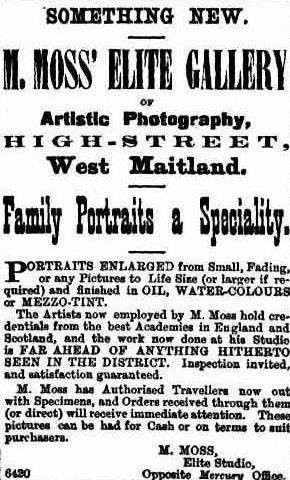 As far as the Maitland Mercury is concerned, Kedwell proves his competence with 'a very excellent collection of photographs.' [16]
[1] Maitland Mercury, 30 October 1880
[2] Maitland Mercury, 22 January 1881
[3] Maitland Mercury, 8 February 1881
[4] Maitland Mercury, 2 April 1881
[5] Maitland Mercury, Saturday 30 July 1881
[6] Maitland Mercury, 5 September 1882
[7] Maitland Mercury, 30 September 1882
[8] Maitland Mercury, 26 May 1883
[9] Maitland Mercury, 26 November 1885
[10] Maitland Mercury, 25 September 1886
[11] Maitland Mercury, 21 September 1886.
[12] Maitland Mercury, 16 April 1887
[13] Maitland Mercury, 24 August 1889
[14] Maitland Mercury, 16 November 1889
[15] [at least since 1886 when he is mentioned with Moss' new studio MM 25 September 1886]
[16] Maitland Mercury, 21 December 1889