Watts' artwork also featured in other Maitland settings, such as window adornment for commercial premises:
The windows will form no inconsiderable part in the decoration of Mr. J.G.Chapman's premises, and they reflect great credit upon Mr Aland Watts, an old Maitlander who executed the work under the special supervision of Mr J. G. Chapman, and has added another to the many examples of the decorator's art with which he has furnished the people of this town." [1]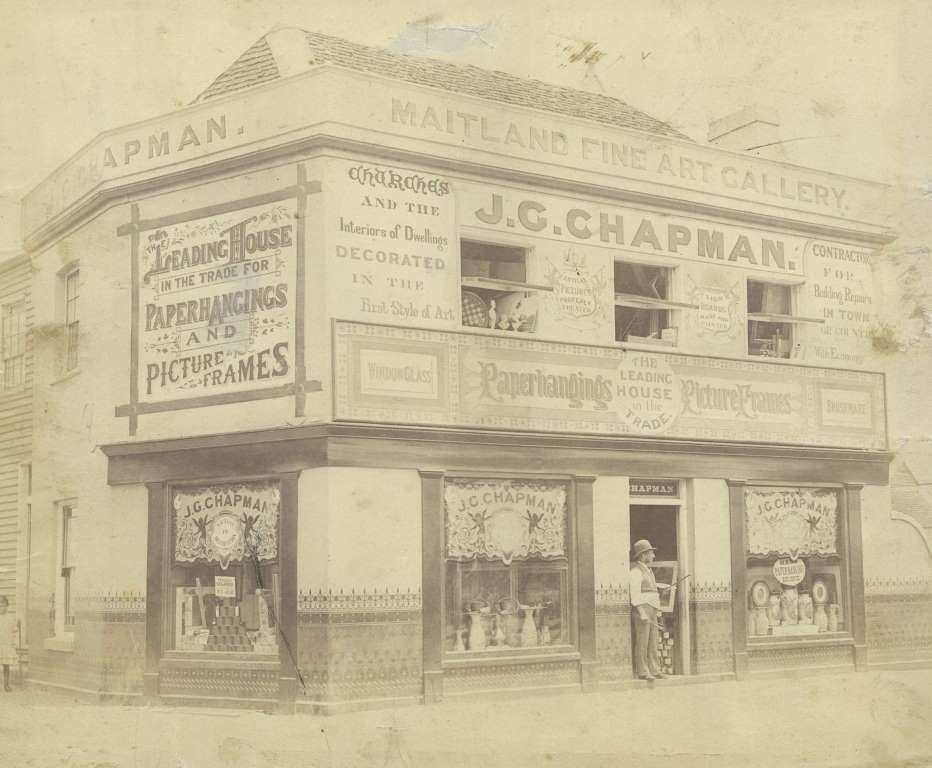 Image : Maitland City Library
Working with Morris Moss
Prince Alfred Dramatic Club
In August of 1868 Morris Moss' portraits of the Prince Alfred Dramatic Club also mentions local signwriter and painter Aland Watts, with whom Moss collaborates on other occasions. [2]
Souvenirs of the Flood
…The borders are the work of Mr. Aland Watts, and are very well executed. [3]
Presentation
On Saturday evening, a number of residents of the town of West Maitland assembled at Tuck's Commercial Hotel to witness the ceremony of the presentation by the Mayor (Mr. W. H. Smith) to Mr. H.Levien, of the portraits of himself and his boat's crew (five in number in all) photographed by Mr. M. Moss, and mounted and decorated by Mr. Aland Watts. [4]

Photographs of St. John's Cathedral
We were shown yesterday a very neat photographic view of the cathedral of St. John, West Maitland, the work of Mr. Moss, of High-street. At a cursory glance, it would seem to be a sun painting of the structure from the original, so clear are the outlines, and so faithful the details, but the fact is it is a copy of a drawing by Mr. Aland Watts, who had the advantage of the sun in this particular, that he can choose a point of view not attainable by the camera; it is for this reason that the photograph is not "from the life," but few persons would observe this unless previously told of it. [5]

Water Brigade
On Monday evening, the members of the West Maitland Water Brigade, with some friends, assembled at Mr. M. Scott's, Birmingham House, West Maitland, for the purpose of presenting an address and testimonial to their President, Mr. R. W. Thompson… The " picture" referred to by Mr. Thompson, was the set of portraits of the members of the Brigade, photographed by Mr. M. Moss, embellished with scroll work by Mr. Aland Watt, and set in a fine gilt frame, which has been for some weeks on view at Mr. Moss's gallery in High-street. [6]

New business premises for Messrs. Rigney and Moss
The premises have a handsome double shop front, the windows of which are being decorated in very admirable style by Mr. Aland Watts, an old Maitlander. [7]


Mercury staff portraits
The decorative taste of Mr. Aland Watt was employed to devise a bordering for each portrait and for the whole group. [8]

Portrait of Watts
"I noticed in his waiting room a fine portrait of an elderly gentleman, wearing the moustache of other days. It was of Mr. Watts, a clever artist in his own turn and friend of the late Mr. Moss, founder of Cameron Studios." [9]
[1] Maitland Mercury, 29 September 1883
[2] Maitland Mercury, 4 August 1868
[3] Maitland Mercury, 19 April 1870
[4] Maitland Mercury, 28 April 1870
[5] Maitland Mercury, 12 May 1870
[6] Maitland Mercury, 22 April 1875
[7] Maitland Mercury, 25 September 1886
[8] Maitland Mercury, 31 October 1891
[9] Transcript of a radio broadcast with the series title "Memories of the Hunter", dated 2/4/40