Weston, Charles Edward and William Henry
Maitland : 1910-1920
C. E. Weston is listed as a photographer of 'cabinets' in West Maitland [1] however Charles Weston's photographic involvement commences in relation to his business activities in Gundagai.
In 1971 the National Library of Australia acquired a collection of negatives believed to be the work of several photographers which included C.E. Weston and Dr. Gabriel. Given that Charles Weston's Gundagai drapery store had a photographic department and studio on the premises, together with the responsibility for processing Dr. Gabriel's plates, it has been suggested that Weston may be responsible for a number of photographs appearing in the 'Gundagai Album'. [2]
Charles Weston relocated to Maitland in late 1909 and
the clearing-out sale of the business included the entire photographic equipment and stock. As noted by the Gundagai Times, Charles Weston was to join with his brother Percy in business. [3]
A grand opening of the new Maitland premises, which sold a range of goods, occurred in February 1910. [4]
Peter Quartermaine stated in 1976: "Some of Weston's negatives are known to exist in Maitland and the publication of this book [the Gundagai album] may throw more light on his work." [5]

To date, this does not appear to have been the case, however photographs by his brother, William Henry have been identified and are available online via Maitland City Library's Picture Maitland site.
William Weston's photographs generally cover the years of 1909 - 1920.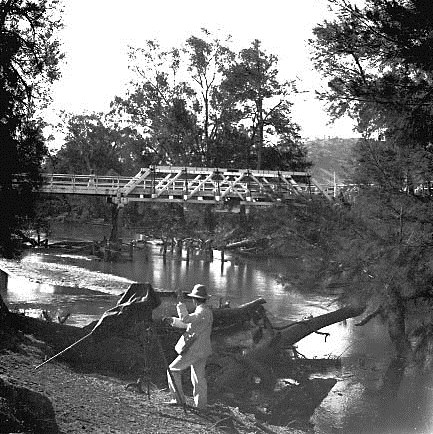 Either brother Charles or William could be
photographer or subject
Image courtesy Weston family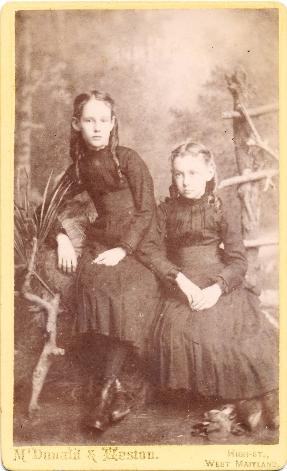 Although this portrait of two girls carries the caption McDonald & Weston, has been located it is not clear that the Weston referred to on the caption is Charles Weston. McDonald's involvement in Maitland can be identified as 1886-1887.
[1] Davies, Alan and Stanbury, Peter. The Mechanical Eye in Australia: photography 1841-1900, Oxford University Press, Melbourne, 1985. Date of business not specified.
[2] http://www.nla.gov.au/sites/default/files/gundagaialbum.pdf
Peter Quartermaine (ed.), Gundagai album: early photographs of an Australian country town, Canberra, National Library of Australia, 1976.
[3] Gundagai Times and Tumut, Adelong and Murrumbidgee District Advertiser 21 December 1909