Roggenkamp, Martin
Maitland : 1859
Hinton, Morpeth and the surrounding districts could take advantage of the skills
of Mr. Martin Roggenkamp in December of 1858, with the inhabitants of Maitland being solicited in June the following year. [1]

Inclusion of the wording "arriving from Sydney" suggests Roggenkamp's status as an experienced photographer of quality; it is unclear whether he was, in fact, from Sydney at that time.
Roggencamp's initial advertisements in the Maitland Mercury were modest, while advertisements in August of 1859 display greater detail about the business, Roggenkamp even declaring the quality of his portraits not the best in the colony, but "unsurpassed in this hemisphere":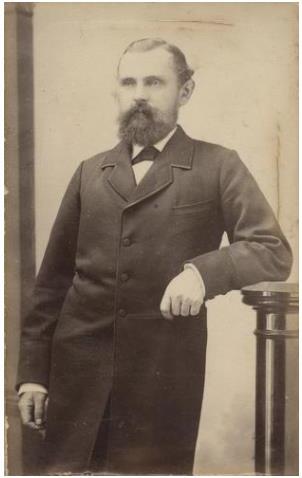 Portrait of Martin Roggenkamp ca. 1858
Image : State Library of Queensland
ROGGENKAMP'S EXCELSIOR PHOTOGRAPHIC GALLERIES, OLD POST
OFFICE, WEST MAITLAND.
THE largest and most complete PHOTOGRAPHIC GALLERY, and fitted
up with every requisite for taking all kinds of Portraits, in a style hitherto
unsurpassed in this hemisphere.
All Pictures taken at Mr. M. ROGGENKAP'S Galleries warranted not to fade
either by light or age. Children of any age taken on bright days from
TEN till FOUR, as the light is strongest during that time. Correct Portraits
taken at Sydney prices by Mr Roggenkamp, Old Post Office, West Maitland. [2]
The Excelsior Photographic Gallery name is being used by Roggenkamp, used also by Solomons some 20 years later.Advertising his last week in the district in October 1859, Roggenkamp moved on to Black Creek by March 1860. [3]
Martin was not the only photographer in the Roggenkamp family. Roggenkamp brothers Christopher, Martin and Otto, were German immigrants. The great granddaughter of Christopher Roggenkamp, Kate Colfs, has indicated that Christopher started his photography business in Warwick, Queensland, in 1863, the year of his arrival. He was joined by his two elder brothers, Martin and Otto, who had emigrated previously. Otto remained in Warwick working with Christopher, while Martin purchased the Dalrymple Hotel in Allora (Queensland). In 1868, Martin Roggenkamp left Allora to open his own studio in Toowoomba. [4]
Martin Roggenkamp remained in Toowoomba until his death in 1912, aged 75. [5]

Photographs taken in Maitland have not yet been identified by this research however the State Library of Queensland has the above image of Martin Roggenkamp himself, ca. 1858, as well as that of his daughters (left).
The Roggenkamp family photograph album provides a number of additional images, available at State Library of Queensland. [6]
Back (left to right) : Agnes and Alice.
Front (left to right) : Bertha and Ida.
[1] Maitland Mercury, 16 June 1859
[2] Maitland Mercury, 27 August 1859
[3] Maitland Mercury, 24 March 1860