Hart's photographic business draws to an end in the 1870s, but there are some significant highlights, one of which is the following depiction from the Illustrated Sydney News.
Mr. Elijah Hart, of West Maitland, has furnished the series of photographs from which our illustrations of the Hunter River floods are taken. [1]

Caption: Flood in the Hunter – West Maitland and neighborhood after water had abated four feet.
(From photograph by Mr. E Hart) [access full article]
The Intercolonial Exhibition proved to be successful, the special correspondent in Sydney noting that 'Mr. E. Hart, the photographer, has some nice specimens in his line, which have attracted attention amongst connoisseurs.' [2]
In June of 1872 tenders are called for 'erecting a colonnade', applications forwarded to Harts Gallery. [3]
The successful architect was J.W. Pender with the colonnade being erected "in front of the premises formerly occupied by Mr E Hart as a portrait gallery, but which we believe are to be opened in another business." [4] [access full article]

In December of 1873 Hart announces that he has disposed of his interest in the photographic business to Arthur Curtis and Hart's new toy and fancy repository store is opened next door to the portrait gallery. [5]
Hart continues in this business (known as the Rocking Horse Toy and Fancy Warehouse) until 1876, with the 'commodious premises' then being leased to the government for use as the post office. [6]
In the same issue of the Mercury notice is given that Hart's premises, together with his household furniture will be auctioned.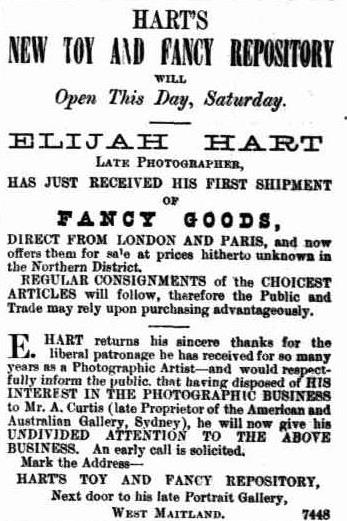 Photographer Balthazar Kline advertises that he has all the negatives taken by Mr. Nicholas, at Hart's Portrait Gallery and copies can be supplied by applying at the River View Gallery. [7]
In November of 1878, Robert Baxter takes over the former Hart gallery.
Elijah Hart dies in 1893 at Woollahra, Sydney, aged 72. [obituary]