The Moss studio reopens after extensive alterations in December 1891, 'giving an opportunity for producing photographs superior to those hitherto taken at the well-known gallery.' [1]
An important achievement for Moss in 1892 is a Maitland panorama published in the picture supplement of the Maitland Mercury of 6 August 1892:
Our picture supplement: To-day we publish a picture supplement showing views of West Maitland, and the principal shops and other chief buildings. The picture has been reproduced from photographs taken with one exception by Mr. M. Moss.
The exception is the view of the Bank of Australasia, which was furnished by Mr. Pickering of West Maitland.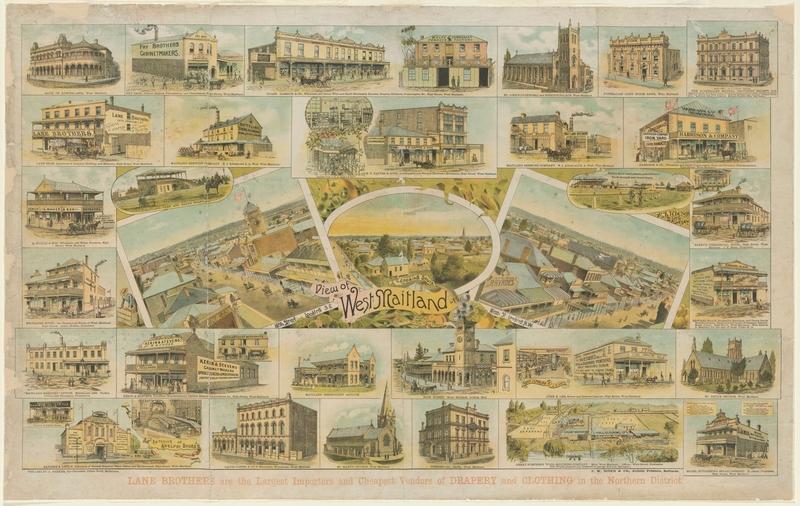 Image: State Library of New South Wales. Viewable online [2]
Another lasting legacy of Moss are a series of photographs depicting the severe flood of March 1893, a description of that flood in the Maitland Mercury indicating the devastation. [access full article]
Some of the Moss flood images are viewable on this website and have been reproduced elsewhereas souvenir documents.[3]
The Illustrated Sydney News used the Moss' photographs, incorrectly attributing them to Pickering. Their correction soothing those slighted by stating that 'Moss succeeded in obtaining the best photographs of the floods that were taken during the terrible visitation'. [4]

Moss was also a major victim of the flood, with damage to 'pianos, organs and fancy goods, while in the photographic department the loss of negatives is almost incalculable to him.' [5]

The praise of the Maitland Mercury is again expressed in the most effusive terms in August 1893, a year before Ernest Cameron takes over the studio:
Artistic Photography.-We have in the past had occasion so often and so heartily to compliment Mr. M. Moss upon the magnificent collection of photographs from time to time on view in his well-known Elite Studio that it is hard to find expressions which will now adequately convey our praise of some of his latest efforts… Artistic photography has made rapid strides of late years, but it issurely gratifying to find a local house keeping well abreast of the times as that of Mr. Moss does. At his studio are not seen flat, expressionless delineations, for all the photographs are pictures with a roundness, a fullness, and a subdued life as it were that are charming. [6]

Although no definitive date for the end of Moss' time as a Maitland photographer has been established, by 5 November of 1894 the studio is referred to as Cameron's Elite Studio. Furthermore the Vandyck Studio advertises their manager as Mr. A Williams, many years Head Operator and Artist at Moss' perhaps alluding to a change at the Moss studio. [7]
Morris Moss dies at his residence, 120 Glenmore Road, Paddington, Sydney, on 10 September 1905, aged 63 years. [8]
[1] Maitland Mercury, 15 December 1891
[2] Image available online at: http://www.acmssearch.sl.nsw.gov.au/search/itemDetailPaged.cgi?itemID=850351
[3] 1893 flood images available online via an internet search and have been reproduced in the booklet Memento of Maitland floods, March 1893 and May 1913. https://www.flickr.com/photos/uon/sets/72157622678928696/ A few images are available online at the State Library of New South Wales and original copies are located at the Mitchell Library, Sydney.
[4] Illustrated Sydney News, 1 April 1893
[5] Maitland Mercury, 16 March 1893
[6] Maitland Mercury, 29 August 1893
[7] Maitland Mercury, 21 November 1894
[8] Sydney Morning Herald, 11 September 1905