Spragg, George H.
Maitland : 1867
The photographic gallery of George H. Spragg, located on the intersection of High and Free Church Streets, was first advertised in the Maitland Mercury in May 1867, but from that date on Spragg's career does not appear to have been vibrant.

The 'Young Australian Portrait Gallery' named in this advertisementmay have been a studio name of Spragg's invention, since it is not referred to again by Spragg or any other photographic studio. [1]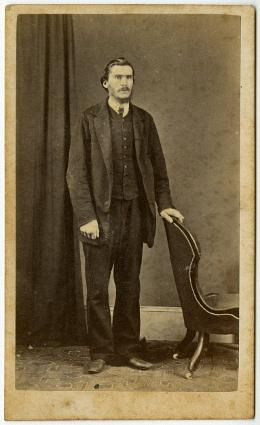 Spragg is mentioned in the newspaper with regard to a painting of the late Mr. T.B. Lemon by artist Mr. F. Hitchins, enlarged from a miniature photograph taken by Spragg, then again for a donation supplied for fundraising for the Hospital and School of Arts. His donation to the Volunteer Rifle's second match of a portrait of the winner is equalled by the same offer by Elijah Hart for the first match of the same competition. [2]
He also marries in 1867, to Margaret Balser and is listed a member of the Sons of Temperance in 1868. In March of 1869, the gallery is advertised to be sold or let, in both the Sydney Morning Herald and the Maitland Mercury. [3]
The Maitland Mercury sale notice of 16 March lists not only his household goods and furniture, but his photographic equipment as well: "Also, a Quantity of PHOTOGRAPHIC GOODS, comprising CAMERAS, Lens, Boiling-press Chemicals, Baths, Measures, Cabinet Printing Frames, &c.." [4]
Image: University of Queensland

Photographer Jospeh Youdale purchases all of Spragg's negatives and will be "happy to supply parties with prints of the same." [5]

As one of Beaufoy Merlin's photographic agents for the A & A photo. Co., Spragg reappears once again in Maitland in 1871, now on tour and able to remain just a few days. [6]

[1] Maitland Mercury, 23 May 1867
[2] Maitland Mercury, 28 November 1867
[3] Maitland Mercury, 4 March 1869
[4] Maitland Mercury, 16 March 1869
[5] Maitland Mercury, 3 April 1869
[6] Maitland Mercury, 2 December 1871