Jacob Audet - 1860 - 1864
A Polish immigrant arriving in Australia in 1855 [1], Audet's photography business is initially conducted in an itinerant fashion. In 1857 his travels included Wollombi, Singleton, Muswellbrook and Scone, and in 1858 Uralla, Rocky River Gold Fields, Murrurundi and Tamworth.
Having married Elizabeth Moss in August 1859 [1] (sister of photographer Morris Moss) advertisements in the Maitland Mercury indicate that by February 1860 Audet has settled in Maitland with his photography business, in rooms opposite the Angel Inn,
High Street.
In February of 1860, potential clients are advised as to the effects of particular colours when photographed and suggestions for the most appropriate clothing are made – early days in the public's experience of photography.
Audet advertises his "Skylight Gallery" repeatedly from March to June 1860 (often directly above or below advertisements by Elijah Hart) where photographs could be fitted in "Cases or Frames (Union or Morocco) in Brooches, Lockets or Studs. N.B.-A correct likeness or no charge. Babies taken daily." [2]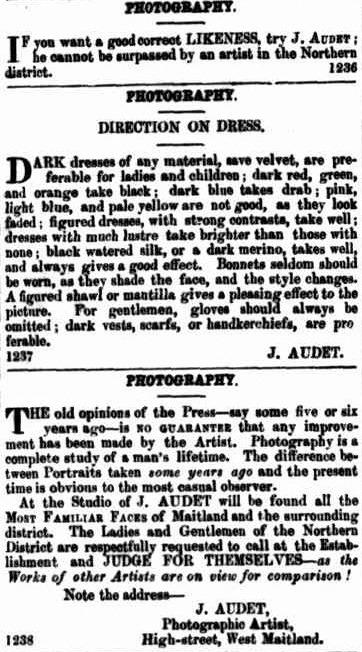 In June, Audet's business attention also turns to jewellery and watchmaking. He takes over the business of A. Goldman, [3] advertising in the Sydney Morning Herald for a competent watchmaker for English and Geneva watches. [4]
The photography business continues simultaneously with the jewellery enterprise, with 'likenesses taken daily' advertised in the same issue of the Mercury as the watchmaking.
A severe storm strikes Maitland in February 1861. It destroys the gallery's skylight and causing significant damage, [5] but by March, Audet is back in the photography business with 'considerable improvements'. [6]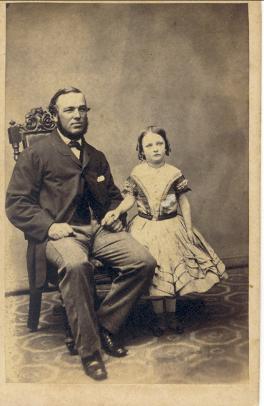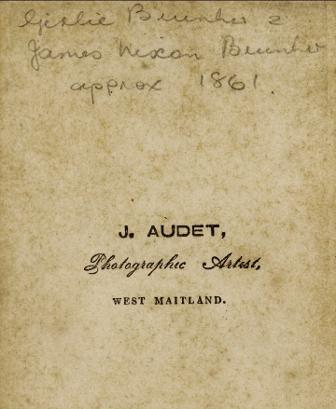 James Nixon Brunker (b. 1832 - d. 1910) with daughter Mary Ann Elizabeth Brunker (b. 1857- d. 1945)
Image courtesy of Irene Philips
AUDET'S PHOTOGRAPHIC GALLERY,
THIS GALLERY (which was partially injured by the storm on the 23rd ultimo) is now RE-OPENED,
with considerable improvements; and the Proprietor is prepared to take PORTRAITS IN ANY STYLE OF THE ART, including alabaster, portraits, stereoscopic, negatives, and positives.
Portraits taken on cloth (without any framing) for transmission through the post.
Mr. AUDET'S Portraits are too well known in Maitland to require that puffing which others put
forth in their advertisements.
J. AUDET, Skylight Gallery, High-street, West Maitland. March 1, 1861.

With financial problems, Jacob Audet is declared insolvent in February 1862. [7] Ironically, Audet had composed and read an essay at the Maitland School of Arts in October 1861, on the question "Does insolvency clear a man's conscience?" His conclusion being that the court did not clear a man's conscience. [8]
A few months after the insolvency declaration, Audet 'erects a first class gallery at considerable expense', where correct and truthful likenesses can be taken in any weather. "J. A. has taken upwards of 500 Photographs since opening the New Gallery, and confidently asserts that his likenesses cannot be Excelled in the Colony or Equalled in the Northern District. As proof of the DURABILITY of AUDET'S PHOTOGRAPHS, he has some that have withstood the Australian sun for upwards of five years (exposed every day) and they still retain all their original qualities. [9]
In August of 1862, Audet advises of his partnership with Morris Moss ; [10] two years later, Moss purchases Audet's business in its entirety.
In April of 1863 Audet announces that he has taken premises in Newcastle, to be opened as the Great Northern Photographic Company, while the Maitland business was to also continue. [11]
This photograph of Tom Hammond (right) has 'Audet's' printed on the back, specifying Maitland and Newcastle. Possibly 1863.
In May 1863 Audet also advertises a professional challenge to other photographers. By June no other photographer has taken up the challenge. Audet interprets this as a sign of his superiority, being "…justified in trusting that he is now considered the best Photographic Artist in the Northern District, which is proved by every likeness he takes, there being no foreign specimens to deceive customers like other artists do, while their own productions are a disgrace to Photography." [12]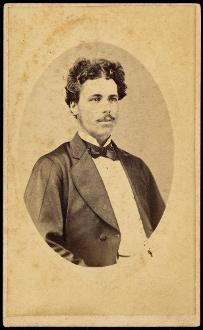 Tom Hammond
Image : State Library of Victoria
The importation of improved photographic apparatus features in a July advertisement, as does the information that Audet has taken upwards of 2,000 negatives in twelve months, giving an indication of the volume of photographs being taken. [13]
The introduction of sennotype is the next significant step in Audet's business, promoted as a new era in art. [14]
Later (in February of 1865) Audet claims that he is the sole practitioner of the sennotype. [access full article]
[1] Wilton, Janis. Maitland Jewish Cemetery : a Monument to Dreams and Deeds, Maitland Regional Art Gallery, Maitland, 2010.
[2] Sydney Morning Herald, 13 Sept 1859
[3] Maitland Mercury, Saturday 5 May 1860
[4] Maitland Mercury, Saturday 30 June 1860
[5] Sydney Morning Herald, 28 October 1860
[6] Maitland Mercury, 26 February 1861
[7] Maitland Mercury, 2 March 1861
[8] Sydney Morning Herald, 27 February 1862
[9] Maitland Mercury, 19 October 1861
[10] Maitland Mercury, 5 July 1862
[11] Maitland Mercury, 9 August 1862
[12] Maitland Mercury, 25 April 1863
[13] Maitland Mercury, 6 June 1863
[14] Maitland Mercury, 4 July 1863
[15] Maitland Mercury, 19 December 1863