The purchase of Audet's business by Morris Moss in September 1864 marks a major change for both Moss and Audet. [1]
The services of Audet are to be retained until January of 1865, then in February Audet publishes a lengthy advertisement regarding construction of a new gallery in Maitland. [2]
J. AUDET, PHOTOGRAPHIC and SENNOTYPE ARTIST, begs to announce to his patrons and the public that he is constructing a NEW GALLERY, upon the most improved principles ; and, having imported a CAMERA LARGER THAN ANY ONE HITHERTO IN THE COLONY, fitted with lenses from the celebrated manufactory of D'Almaire & Ross (recognised as the best makers in the world of photographic appliances), will shortly be prepared to take LARGE-SIZED PORTRAITS IN SENNOTYPE and [blank] type, as well as CARTES-DE-VISITE and VIGNETTES, is a style which will surpass all former efforts. Mr. Audet also wishes to intimate that, being desirous of exhibiting none but perfect specimens of his art, he will take new pictures of all his old customers without any extra charge for the first picture, and trusts they will favour him with a call for this purpose after next week. He is also determined to reduce the price for cartes de visite. In future the first picture will be charged 2s., and 18s per dozen for copies. In conclusion, he would remind the public that no Sydney or foreign specimens are exhibited in his window, but that each picture is veritably his own production. Mark the address JACOB AUDET, opposite the Bank of New South Wales, High-street, West Maitland.
In the same issue of the Mercury, Audet accepts the challenge of photographer William Liddell. A week later, Audet seeks to continue the confrontation, but with no response from Liddell, the challenge wanes.
A few brief advertisements appear in March 1865 and then the business is offered for sale in December, in the Sydney newspaper, the Empire. [3] Without the business being sold, advertising resumes in November 1866.
Towards the end of 1866, Audet advertises under the title "Photographic Company" opposite the Bank of New South Wales. [4]
The Mercury comments on a new endeavour by Audet and Reay:
EFFECTIVE PORTRAITURE. — A very lifelike portrait of the late Mr. Samuel Cohen has lately been exhibited in Mr. Audet's window. It is an oil-painting, the outline of which was a photographic picture produced on the canvas by means of the camera, and worked up by the artist with a duplicate photograph by his side. [5]
Audet advertises the linking of art and science, one such advertisement pointing out that no other portraits are taken in West Maitland by the same process. [6]
ART AND SCIENCE.
MR. AUDET and MS. REAY HAVE JOINED for the purpose of WORKING OUT SOLAR PICTURES IN OIL.
A specimen may be seen at Mr. Audet's establishment of a portrait of the late Mr. Sam. Cohen.
Those are the only real solar pictures taken in West Maitland. They are about to establish a PORTRAIT CLUB,
consisting of twenty members. Members to pay 5s, weekly; the price of the pictures from £5 5s. upwards.
The chief beauty of this process is that only one sitting is required for a life-size portrait on canvas.
Messrs. REAY and AUDET will be happy to receive the names of any persons wishing to become subscribers
in the above-mentioned club. [7]
The proposed 'portrait club' is not subsequently mentioned in the Maitland Mercury and presumably doesn't eventuate. Likewise, Mr. Reay is not referred to again.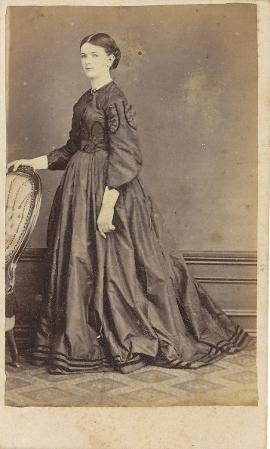 Image courtesy of Terri Svensson

By May of 1867 Audet is again trading under the name of Great Northern Photographic and Fine Art Company (as distinct from the former Great Northern Photographic Company) with premises opposite the Bank of N.S.W. in High Street, Maitland and in Hunter Street, Newcastle. [8]
A month later, the Great Northern Photographic and Fine Art Company is referred to as 'late J. Audet'. [9]
After erecting a new building in Hunter Street, Newcastle, in June 1867, newspaper articles indicate Newcastle as Audet's location through to the early 1870s. [10]
[1] Maitland Mercury, 24 September 1864
[2] Maitland Mercury, 11 February 1865
[3] Empire, 16 December 1865
[4] Maitland Mercury, 17 November 1866
[5] Maitland Mercury, 26 February 1867
[6] Maitland Mercury, 9 March 1867
[7] Maitland Mercury, 2 March 1867
[8] Maitland Mercury, 11 May 1867
[9] Maitland Mercury, 15 June 1867
[10] Maitland Mercury, 13 June 1867, 28 August, 11 September 1869, 27 August 1870 ; Empire, 24 September 1869